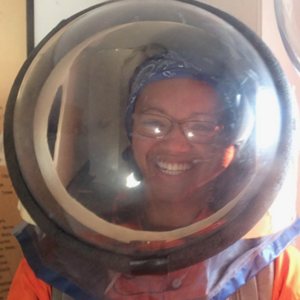 2nd Lt. Makiah Eustice, USAF
Habitat Operations Officer and Aerospace Engineer
Sensoria 6
2nd Lt. Makiah Eustice is an Aerospace Engineer, US Air Force officer, and emerging researcher in human factors and performance in the aerospace field. She received a B.S. in Aerospace Engineering at Texas A&M University and completed the Space Studies program at the International Space University. She is currently investigating effective non-verbal communication on EVA surface operations.
She first got involved in space analogs as mission support for the Mars Desert Research Station (MDRS) rotational crews. She was selected for Crew 200 as Greenhouse officer in 2018 and the Mars Academy TAMUSEDS mission in 2019 as Commander, leading a team of Texas A&M freshmen. Other experiences include scuba diving training, riding in a T-38 Talon, simulating forward operating base operations, and taking flying lessons.
Makiah was selected as a Brooke Owens Fellow, a competitive cohort for exceptional women and gender-minority undergrads in aerospace to receive working experience and gain powerful networking in the industry. She worked in systems engineering and requirements management at the Aerospace Corporation. At Texas A&M, Makiah was a member of the Corps of Cadets and Air Force ROTC. She was project director of the student SEDS chapter in 2017-2018 before becoming President and founding the Aggie Astronaut Corps program. She worked in research on shape memory alloy applications. She was also committed to outreach, doing space activities with local schools with SEDS and using social media as a platform for her space exploration journey. With the the NASA Social program, she got media access to see her first live launch from Vandenberg.
In the Air Force, Makiah will work in the developmental engineering career field. She hopes to pursue human factors and flight test engineering while supporting analog and microgravity research on the side.
In her free time, Makiah can be found dancing or playing her mountain dulcimer!
---
Related Sessions
Women's Global Gathering Luncheon
Thursday, April 2, 2020
12:15 pm - 1:40 pm
Track: Meal Event, Symposium Program
---