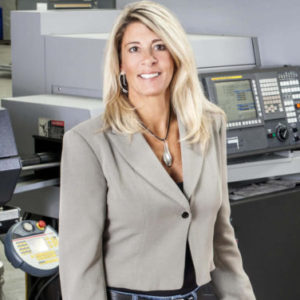 Carol Craig
Founder and Chief Executive Officer
Craig Technologies
A self-described accidental entrepreneur and Unconventional CEO®, Carol Craig is Founder and Chief Executive Officer of Craig Technologies, headquartered in Merritt Island, FL. Craig Technologies is an Engineering, Technology and Manufacturing company that supports both government and commercial customers nationwide with employees in over 20 states. Carol grew Craig Technologies from one person in 1999 to over 300 associates with steadily increasing revenues and diversification.
As CEO, Carol oversees corporate operations to ensure quality service-delivery for her commercial and government customers, offering commercial space operations onboard the International Space Station, design engineering, precision machining and fabrication, avionics and electronic fabrication, systems engineering and integration, software design and development, information technology support, training and courseware development, integrated logistics and range operations support.
Craig's corporate headquarters and its Engineering division is based in Merritt Island, FL. The engineering division provides quality in-house Design Engineering services from up-front analysis to integration, assembly and test in support of customers such as the Department of Defense, NASA, Boeing, General Dynamics Electric Boat, and Sierra Nevada Corporation.
Craig's manufacturing subsidiary Craig Technologies Aerospace Solutions (CTAS) has both a 20,000 square foot precision manufacturing facility, and an 8,000 square foot avionics and electronics fabrication facility in Cape Canaveral, FL. The CTAS manufacturing operation provides engineers, technicians and state of the art equipment to support precision machining, fabrication and assembly for prototypes, test articles, one-offs, and low-rate initial production up through high volume swiss screw machining production for companies such as Boeing, United Launch Alliance, Northrup Grumman, Lockheed Martin, Harris, Pacific Scientific, NASA and other government and commercial customers. Its electronics operation produces a wide range of space system flight and ground cables, fiber optic assemblies and electronic chassis for such customers as Boeing, Lockheed Martin, Blue Origin, Sierra Nevada, and NASA.
As a P-3C Orion Naval Flight Officer, Carol was the first female aviator to join her P-3C Orion squadron. She holds a BA in Computer Science from Knox College, a BS in Computer Science Engineering from the University of Illinois, and an MS in Electrical and Computer Engineering from the University of Massachusetts at Amherst. Ms. Craig is pursuing a PhD in Systems Engineering at Florida Tech in Melbourne, FL.
In 2017, Carol was the recipient of the 2017 "Making a Difference" award by The American Business Women's Association Oceanside Charter Chapter. In 2016, Carol received a Special Congressional Recognition award from Congressman Bill Posey during Hispanic Heritage month for her outstanding and invaluable service to the local community. In 2015, Carol was selected as the Small Business Administration's Small Business Person of the Year for the State of Florida and South Florida District, and was recognized as the national first runner-up finalist in Washington, DC. The National Defense Industrial Association (NDIA) recognized Carol with the Kathleen P. Sridhar Small Business Executive of the Year Award in 2013, and she received the prestigious 2013 HENAAC Entrepreneur of the Year Award by the Great Minds in STEM. In 2008, the Society of Women Engineers recognized Carol as Entrepreneur of the Year.
Carol has also been featured in several publications, including The University of Illinois Alumni Magazine, Florida Trend, Washington Technology, Entrepreneur.com, Orlando Business Journal, and Florida Today.
Carol serves as a member of the Knox College Board of Trustees, and is a board member on the Florida Tech College of Business, Advisory Board, Dean's Industry Advisory Board (IAB), Florida High-Tech Corridor Council, National Space Club of Florida, Civilian Military Community Foundation, Economic Development Commission of the Space Coast, Junior Achievement of the Space Coast, and for the Maxwell C. King Center for the Performing Arts in Melbourne, FL.
Carol's past Board Member contributions include 2015-2016 U.S. Manufacturing Council (Council Member, Trade/Tax Committee member), Enterprise Florida (Board of Directors, Executive committee (Military and Defense liaison)), The Florida Council of 100 (Board of Directors), Florida Chamber of Commerce (Board of Directors), FL Chamber Small Business Council (Board of Directors), Orlando Chamber of Commerce (Board of Directors, 2014 Chair of Leadership Orlando, Executive committee), United Way of Brevard (Chair of 2015 Campaign; Chair of Board of Directors, Executive committee; Board of Directors), Space Coast March of Dimes (Board of Directors), Economic Development Commission of the Space Coast (Board of Directors, Chair of Industry Council), Melbourne Regional Chamber of East Central Florida (Board of Directors), University of Central Florida (UCF) Foundation IT Committee, UCF Industrial Engineering Management Systems (IEMS) Executive Advisory Board (Board of Directors), Space Coast Disability Council (Chair), UCF College of Engineering and Computer Science (Board of Directors), CareerSource (Executive committee, Board Member, community committee), Nemours Children's Hospital (Board of Managers), The Haven for Children (Board of Directors), STEM Alliance (Board of Directors), Brevard Library Foundation (Board of Directors), Field of Dreams (Board of Directors), and Junior Achievement of the Space Coast (Chair).
Carol and her husband, CAPT John W. Craig, USN (RET), a former F/A-18 pilot who now flies for JetBlue Airways have two teenage children. In response to her son's diagnosis with Prader-Willi Syndrome in 2001, Carol founded the Danny Craig Foundation, aiming to raise and administer funds for multiple organizations that focus on researching children's medical disorders and identifying interventions that help them lead independent lives.
---
Related Sessions
New Generation Space Leaders: Leadership Exchange "Speed Mentoring"
Monday, March 30, 2020
2:00 pm - 4:00 pm
Track: New Generation Space Leaders
---