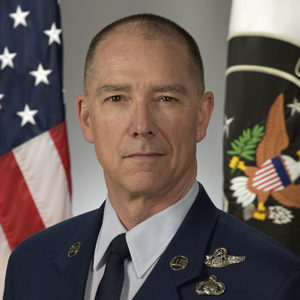 CMSgt Roger A. Towberman, USSF
Chief Master Sergeant
U.S. Space Force
Chief Master Sergeant Roger A. Towberman is the Chief Master Sergeant of the United States Space Force and Command Senior Enlisted Leader of the United States Space Command. Chief Towberman represents the highest enlisted level of leadership. He is the first enlisted member of the U.S. Space Force and the first to be appointed to its highest noncommissioned officer position.
U.S. Space Force is responsible for providing resilient, defendable and affordable space capabilities for the nation and the joint force.      It is the duty of the U.S. Space Force to protect the interests of the United States in space; deter aggression in, from and to space; and conduct prompt and sustained space operations. As the Chief Master Sergeant of the U.S. Space Force, Chief Towberman provides direction for the enlisted force and represents their interests. He is also the personal advisor to the Chief of Space Operations, U.S. Space Force, who he advises on the organizing, training, equipping and maintaining of mission-ready space forces and capabilities for U.S. Space Command and other combatant commands around the world.
USSPACECOM is responsible for deterring conflict, defending U.S. and Allied freedom of action in space, delivering combat-relevant space capability to the joint/combined force, and developing space forces to advance U.S. and Allied interests in, through and from the space domain. The command and associated components will be dispersed across various locations including Peterson AFB, Colorado; Schriever AFB, Colorado; Offutt AFB, Nebraska; and Vandenberg AFB, California. As the Command Senior Enlisted Leader, Chief Towberman advises the Commander, USSPACECOM on space forces providing tailored, responsive, theater and global space effects in support of national objectives.
Chief Towberman entered the Air Force in September 1990. He graduated from the cryptologic language analyst course at Goodfellow Air Force Base, Texas in May 1992. His background includes various duties as a ground and airborne cryptologic language and intelligence analyst. Throughout his career, he has filled myriad leadership roles at the squadron, group, wing, and numbered Air Force level, while stateside and deployed including Operations Joint Forge, Allied Force, Northern Watch, Southern Watch, Iraqi Freedom, Enduring Freedom, and Unified Protector. He is a Career Enlisted Aviator with more than 4,500 flying hours.
---
Related Sessions
Featured Speaker: CMSgt Roger A. Towberman, USSF
Thursday, April 2, 2020
8:45 am - 9:00 am
Track: Symposium Program
---