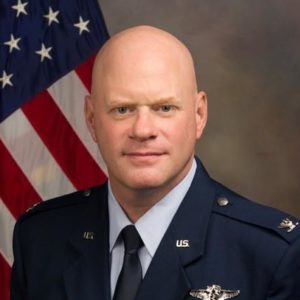 Col. (Dr.) Walter "Sparky" Matthews, USAF
Surgeon General
U.S. Space Force
Command Surgeon, U.S. Space Command
Colonel (Dr.) Walter "Sparky" Matthews serves as the Surgeon General of the United States Space Force (USSF), and Command Surgeon for US Space Command (USSPACECOM). He serves as the senior Department of Defense medical officer for the Space warfighting domain. In his capacity with USSF, he provides consultative support to one Numbered Air Force, one Center, five Wings, 134 operating locations and six Military Treatment Facilities. He leads and sets policy for the 1,314 medical personnel responsible for the health and well-being of over 159,000 active duty members, retirees and dependents with a medical budget exceeding $69M. He manages all USSF medical readiness planning, training and execution and advises senior leadership on relevant medical matters
Colonel Matthews has commanded effectively at the
Squadron, Group and Joint Task Force level, including most recently as Commander of Task Force Medical-Afghanistan and the Craig Joint Theater Hospital (455 EMDG) at Bagram Airfield, Afghanistan. Colonel Matthews served as the Air Force Surgeon General's Consultant for Aerospace Medicine, and was selected Class President of the National War College Class of 2014.
Colonel (Dr.) Walter M. Matthews was born in Austin, TX. He is a Graduate of the USAF Health Professions Scholarship Program and entered active duty in 1996. He is an Aerospace Medicine Specialist, and is board certified in Aerospace Medicine and Public Health & General Preventive Medicine. Colonel Matthews is rated as a Chief Flight Surgeon.
---
Related Sessions
Panel: DoD CisLunar
Thursday, April 2, 2020
2:30 pm - 3:30 pm
Track: Symposium Program
---