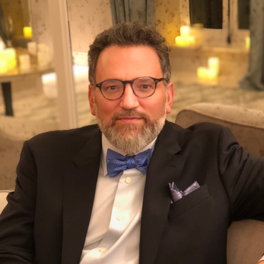 David Anderman
General Counsel
SpaceX
David Anderman is a seasoned executive with a passion for business strategy and dealmaking in the technology, media/distribution, aerospace, and consumer sectors. He was currently serves as the General Counsel of SpaceX, Elon Musk's rocket company, which designs, manufactures and launches advanced spacecraft, and is building a constellation of satellites to deliver broadband internet service to the world. The company was founded in 2002 to revolutionize space technology, with the ultimate goal of making life interplanetary.
Prior to SpaceX, Mr. Anderman spent 16 years at Lucasfilm Ltd., George
Lucas's entertainment empire, starting as the junior lawyer and rising through the ranks to become Chief Operating Officer and General Counsel. In 2012, he negotiated the $4 billion acquisition of Lucasfilm by the Walt Disney Company, and oversaw the integration of the companies for 18 months post-merger. He then served as the Chief Business Officer and General Counsel of Jaunt, a cinematic virtual reality company, where he was responsible for the company's strategy, finance, business development, legal affairs, and HR. He later joined BasilHealth, a consumer facing digital health startup, as Director, Chief Operating Officer and General Counsel. Prior to Lucasfilm, Mr. Anderman was an IP litigator
in the Silicon Valley offices of Orrick and Brown & Bain, focusing on technology matters.
Mr. Anderman serves on the advisory boards of a number of technology startups, including Loom.ai (technology behind Samsung's AR emojis), Theia Interactive (immersive visualizations), Allseated (event planning with VR), Minted (crowdsourced design and consumer products), Leo AR (animated AR objects), asensei (wearable motion capture and training), Haystack TV (mobile video news platform), Pullstring (voice apps, acquired by Apple), and Occipital (mobile depth sensors), and has been a mentor at Founders Space, StartX, and SV Angel.
Mr. Anderman received his undergraduate and law degrees from the University of Pennsylvania and was Executive Editor of the University of Pennsylvania Law Review.
---
Related Sessions
Space Law Workshop
Monday, March 30, 2020
1:30 pm - 5:15 pm
Track: Affiliated Event
---