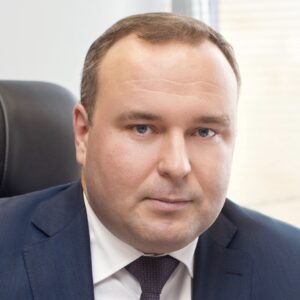 Dmitry Loskutov
Director General
Glavkosmos
Mr. Loskutov graduated from Chuvash State University in 2000 with a degree in Law.
Until 2004 he worked in the Ministry of Justice of the Russian Federation, being engaged in the expertise of regulatory legal acts.
From 2004 to 2006 he worked in the Department for Disarmament Affairs of the Russian Ministry of Foreign Affairs and dealt with issues of international military-technical cooperation and protection of intellectual property rights.
From 2006 to 2012 he worked in the Permanent Mission of the Russian Federation to NATO and headed the Defense Industrial Cooperation Section.  He supervised NATO-Russia Council projects related to air traffic control, strategic and tactical airlift, logistic support cooperation.
From 2012 to 2018 Mr. Loskutov held position of an Aide to the Deputy Prime Minister of the Russian Federation, Dr. Dmitry Rogozin.  He was responsible for the Deputy Prime Minister's international agenda, oversaw the work of a number of bilateral intergovernmental commissions on economic cooperation.
Since 2018 as a Director of the International Cooperation Department in Roscosmos State Space Corporation, he was responsible for developing proposals on state space policy, interaction with federal executive authorities as well as with foreign partners on all issues related to international cooperation in space exploration and use of outer space for peaceful purposes.
In December 2018 Mr. Loskutov was appointed Director General of Glavkosmos – a 100% daughter company of Roscosmos vested with the authority of and designated as the international business operator of Roscosmos.
Mr. Loskutov is assigned a class rank of Class 3 Full State Counselor of the Russian Federation.  He is fluent in English and has a good knowledge of French.
---
Related Sessions