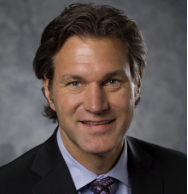 Dr. Bruce Chelsey
Chief Strategist, Defense, Space and Security
The Boeing Company
Dr. Bruce Chesley is the chief strategist for Boeing Space and Launch, a division of Defense, Space & Security (BDS). Chesley leads a team charged with partnership, mergers and acquisition, and market growth strategies shaping the future direction of the Space and Launch division, which includes the International Space Station; the CST-100 Starliner commercial crew vehicle; NASA's Space Launch System (SLS); government and commercial satellite systems; and Boeing's participation in United Launch Alliance.
Previously, Chesley led the Boeing Global Broadband System program within Network & Space Systems (N&SS), with responsibility for the design, development, deployment and operation of a satellite-based system to provide very high data-rate connectivity to support a wide range of Internet and communications services for residential, commercial, institutional, governmental and other professional users worldwide.
Chesley served in several leadership roles in program management, general management, business development, and engineering since joining Boeing in 2000 from the U.S. Air Force. His Air Force assignments included positions at Air Force Space Command, the National Reconnaissance Office and the Department of Astronautics at the U.S. Air Force Academy.
He earned a doctorate in aerospace engineering at the University of Colorado, Boulder. He holds a Master of Science in aerospace engineering from the University of Texas at Austin and a Bachelor of Science in aerospace engineering from the University of Notre Dame.
An author of more than 20 technical articles and book chapters on space systems engineering and satellite design, Chesley is a senior member of the American Institute of Aeronautics and Astronautics, a member of the American Astronautical Society and was named a Vice President of the International Astronautrical Federation Bureau in October 2018.
---
Related Sessions
Salon Breakfast
Wednesday, April 1, 2020
7:15 am - 8:15 am
Track: By Invitation Only
---