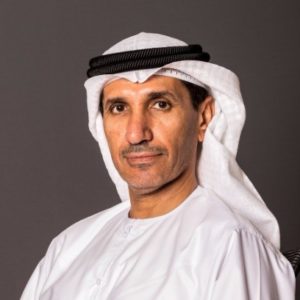 Dr. Eng. Mohammad Nasser Al Ahbabi
Director General
United Arab Emirates Space Agency (UAESA)
Dr. Al Ahbabi is the Director General of the UAE Space Agency and played a key role in its establishment. He leads a team of 60 people. Nationally, Dr. Al Ahbabi played a key role in the establishment and management of strategic projects, such as leading a Centre of Excellence (CoE) in the Defense sector and the National Space Science and Technology Center (NSSTC) at the UAE University (UAEU). In addition Dr. Al Ahbabi managed the military aspects of the Al Yah MilSatCom. Dr. Al Ahbabi is currently a board member for the UAE University as well as President of the BoT for the University's NSSTC, as well as a board member for the Al
Yah Satellite Communications Company (Yahsat) and Global Aerospace Logistics Company as well as BoT of the TRA's ICT Fund.
Regionally, Dr. Al Ahbabi helped establish the Arab Space Cooperation Group which was formed in the UAE in 2019 by 11 Arab countries. He is also a board member of the Arab Union for Astronomy and Space Sciences.
Internationally, Dr. Al Ahbabi was elected to serve as the Vice President for Global Membership Development of the International Astronautical Federation (IAF) in 2018. He is a member of the advisory board of the International Space University (ISU) in France and a member of the Board of Trustees of the Regional Centres for Space Science and Technology Education for Western Asia affiliated to the United Nations. He is one of the 15 Most Influential Personalities in Space Exploration in 2018 and one of the top 50 Arab Power List in Gulf Business in 2018 and 2019.
Dr. Al Ahbabi holds a PhD in Communications and a Master's degree in Optical Communications Engineering from Southampton, UK. He also holds a Bachelor's degree in Electronic Engineering from University of California, USA in 1998, in addition to completing several specialized courses in military and civilian fields.
---
Related Sessions