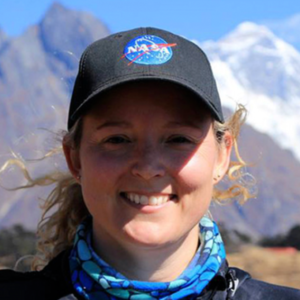 Erin Bonilla
Vice Commander
Sensoria 6
Erin Bonilla comes from a multi-disciplinary background with specializations in science communication, creative direction, curriculum development, and wilderness safety. She earned a B.A. in graphic design and is currently finishing a M.A. in adventure education, with a concentration in spaceflight training administration. Her research explores the space analog participant experience and the evaluation of transformative learning methods that may enhance that experience. To better inform her research, Erin participated in various space analog activities consisting of microgravity training (scuba certification and parabolic flight) and the PoSSUM Citizen Scientist Astronaut program (mission simulations, g-force flight, hypoxia training, and pressurized space suit training). She also studies expedition management, is a Wilderness First Responder, and in 2018 completed a 17-day Everest Base Camp trek.
In addition, Erin worked for at NASA Headquarters as a digital strategist, senior designer, and project manager supporting the Academy of Program/Project & Engineering Leadership (APPEL) whose work later earned her and her team a NASA Honor "Group Achievement" award. Before NASA, Erin served as the creative director at a fashion advertising agency supporting the design and facilitation of all digital advertising campaigns.
Erin advocates for the deep connection between the arts and science education (STEAM) through educational outreach and, in partnership with crew mate Dr. Sian Proctor, is helping to cultivate a supportive and collaborative Analog Astronaut community.
---
Related Sessions
Women's Global Gathering Luncheon
Thursday, April 2, 2020
12:15 pm - 1:40 pm
Track: Meal Event, Symposium Program
---