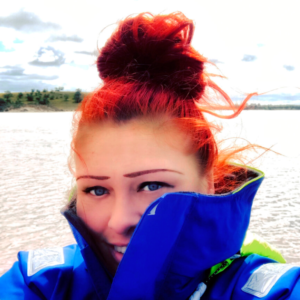 J.J. Hastings
Commander
Sensoria 6
J.J. Hastings is an extremophile and CEO of Alpha Space, a mission-led organization devoted to conducting vital field research that accelerates our ability to support sustainable life on Earth and beyond. An alumna of New York University, Harvard University, and the University of Oxford with advanced degrees in both Biology and Bioinformatics, J.J.'s career in scientific research spans over 15 years at some of the world's leading research institutions. She is also an internationally-acclaimed artist with an MA in Art & Science from Central Saint Martins. Next year, she will complete her doctoral degree at the University of Melbourne, with a multidisciplinary body of research that experiments with machine creativity, and machine-driven biological design, in an era of artificial intelligence.
Last year, she served as Mission Specialist (Bioengineer) on the SPECTRA Lunar simulation at LunAres Research Station. In addition to serving as Commander of the SENSORIA Mars simulation, she is also leading a 10-year field study of remote hypersaline lakes (HALO_EXO), and investigating microbial niches found along the circumpolar Antarctic region (POLAR_EXO) in February 2020.
In 2017, J.J. founded the x0.lab Initiative a not-for-profit organization that supports mission-based scientific field studies and supporting STEAM education in remote communities. As a University lecturer across multiple fields, J.J. is devoted to fostering curiosity and resilience in her students, which stems from her long-standing roots as a hacker.
---
Related Sessions
Women's Global Gathering Luncheon
Thursday, April 2, 2020
12:15 pm - 1:40 pm
Track: Meal Event, Symposium Program
---