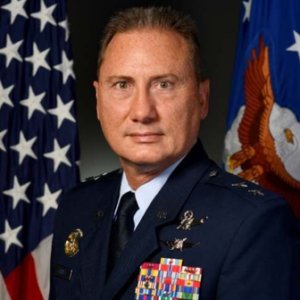 Maj. Gen. Clinton E. Crosier, USSF
Director, Space Force Planning
U.S. Space Force
Maj Gen Clinton E. Crosier is the Director, Space Force Planning, Office of the Chief of Space Operations, U.S. Space Force, Arlington, Virginia. In this capacity, he is directly responsible for formulating the DoD plan for the stand-up and operation of the U.S. Space Force. Included in his responsibilities are the macro-organizational design of the U.S. Space Force, stand-up of initial force elements, and development of funding and manpower requirements, polices, and processes that will govern the establishment of the first new Military Service in 72 years.
General Crosier attended Iowa State University on an Air Force ROTC scholarship. He was commissioned and entered the Air Force in 1988 after receiving a degree in aerospace engineering.
General Crosier has a broad range of experience in
intercontinental ballistic missile and space operations, including a deployment to the Middle East as the U.S. Central Command Director of Space Forces. He has served in staff assignments in the U.S. Senate, Secretary of the Air Force's Action Group, Headquarters U.S. Air Force Office of Legislative Liaison, Office of the Secretary of Defense, Headquarters Air Force Space Command, and Air Force Global Strike Command. His operational commands include the 2nd Space Launch Squadron, Vandenberg AFB, California; 50th Operations Group, Schriever AFB, Colorado; and the 460th Space Wing, Buckley AFB, Colorado. Prior to his current assignment, Gen Crosier served as the Director, Operational Capability Requirements (A5R), Deputy, Deputy Chief of Staff for Strategy, Integration, and Requirements (Dep A5) Headquarters U.S. Air Force, and as the establisher and first Director of the Air Force Warfighter Integration Capability (AFWIC).
---
Related Sessions
New Generation Space Leaders: Leadership Exchange "Speed Mentoring"
Monday, March 30, 2020
2:00 pm - 4:00 pm
Track: New Generation Space Leaders
---