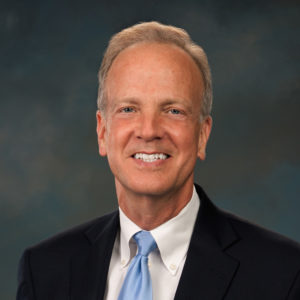 The Honorable Jerry Moran
Senator
United States Senate
Jerry Moran has been serving Kansans in the United States Senate since 2010. He previously served seven terms in the United States House of Representatives.
Sen. Moran serves as chairman of the Senate Appropriations Subcommittee on Commerce, Justice, Science, and Related Agencies, which allows him to lead funding and oversight decisions that impact men and women at a host of agencies, including those working at NASA, NOAA and NSF. Through this chairmanship, Sen. Moran is dedicated to making certain NASA has the support and resources it needs to effectively and efficiently complete its mission. Sen. Moran also advocates for priorities that advance the effectiveness of our nation's scientists and medical researchers, and the competitiveness of our country and the economy. In addition, one of Sen. Moran's primary goals is that those interested in STEM are able to receive a quality education in Kansas and have job opportunities following graduation that keep them interested in working in the state.
Before his election to public office, Jerry Moran attended Fort Hays State University and later the University of Kansas, where he completed a degree in economics. After an early career as a banker, he received his J.D. from the University of Kansas School of Law. Jerry and his wife Robba live in Manhattan, Kansas, and have two daughters – Kelsey and Alex.
---
Related Sessions