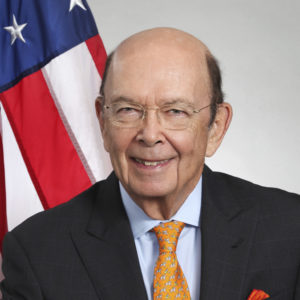 The Honorable Wilbur L. Ross, Jr.
Secretary of Commerce
Department of Commerce
Wilbur Ross was sworn in by Vice President Mike Pence as the 39th Secretary of Commerce on February 28, 2017. Secretary Ross is the principal voice of business in the Trump Administration, ensuring that U.S. entrepreneurs and businesses have the tools they need to create jobs and economic opportunity.
Secretary Ross is the former Chairman and Chief Strategy Officer of WL Ross & Co. LLC and has over 55 years of investment banking and private equity experience. He has restructured over $400 billion of assets. Named by Bloomberg Markets as one of the 50 most influential people in global finance, Secretary Ross is the only person elected to both the Private Equity Hall of Fame and the Turnaround Management Hall of Fame.
---
Related Sessions
Featured Speaker: The Honorable Wilbur L. Ross, Jr.
Tuesday, March 31, 2020
9:15 am - 9:30 am
Track: Symposium Program
---