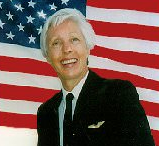 Mary "Wally" Funk
American Aviator

Wally Funk graduated first in her flight training class at Stephens College, and later, at Oklahoma State University was named the "Flying Aggie Top Pilot." At age 20, she was the first woman ever hired as a civilian flight instructor for U.S. Army officers at Fort Still, Oklahoma.
In the 1960s, Wally was one of 25 women chosen to undergo preliminary astronaut testing and became one of the "Mercury 13" qualifying candidates. In 1971, she became the first female FAA inspector and, in 1973, became the first female in the FAA's System Airworthiness Analysis Program. Wally moved on to the NTSB in 1974, where she became one of the board's first female air safety investigators. She has more than 19,000 flight hours and has taught 3,000 students how to fly.
Wally continues to dream of going to space. In 2000, she trained at the Yuri Gagarin Cosmonaut Training Center, Star City, Russia, where she learned about the Soyuz-TM crew transport vehicle, the MIR, and the International Space Station. She also, at age 61, experienced 5G forces in a huge centrifuge at the training center. In 2012, she put money down to be one of the first people to fly into space via Virgin Galactic.
---
Related Sessions
New Generation Space Leaders: Welcome Luncheon
Monday, March 30, 2020
12:30 pm - 1:45 pm
Track: New Generation Space Leaders
---