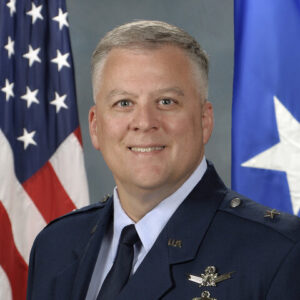 Brig. Gen. Jeffrey F. Hill, USAF
Mobilization Assistant to the Commander, Sixteenth Air Force and Commander, Air Forces Cyber
U.S. Air Force
Brig. Gen. Jeffrey F. Hill is the Mobilization Assistant to the Commander, Sixteenth Air Force; Commander, Air Forces Cyber; Commander, Joint Force Headquarters- Cyber; and Commander, Service Cryptologic Component, Joint Base San Antonio- Lackland, Texas. The general augments the 16AF Commander and leads more than 44,000 active, Reserve and Guard personnel in executing information warfare in multi-domain (air, sea, land, space and cyberspace) operations worldwide. Sixteenth Air Force Airmen are responsible for mission integration of forces and capabilities for multi-source intelligence, surveillance and reconnaissance; cyber operations and expeditionary communications; electronic and electromagnetic warfare; information operations and weather in both strategic and tactical adversary competition and conflict. Air Forces Cyber personnel build, operate, secure, defend and extend the Air Force portion of the Department of Defense global network. Joint Force Headquarters-Cyber personnel perform operational planning, defensive and authorized offensive cyberspace operations. The general leads the activities of the Sixteenth Air Force headquarters supporting Air Force, combatant, geographic and unified commanders and operating globally across nine wings, one technical center and an operations center.
Brig. Gen. Hill received his commission through the U.S. Air Force Academy in 1990. A career intelligence officer, he began his Air Force career on active duty assigned as an imagery officer within the 544th Intelligence Wing at Strategic Air Command, Offutt Air Force Base, Nebraska.
He has since served in a wide range of active and Reserve assignments in direct support to squadron, group, wing, headquarters and joint staff to include Deputy Director of Intelligence at North American Aerospace Defense Command-U.S. Northern Command, Senior Intelligence Officer at the 73rd Space Group, Intelligence Operations Chief for the 302nd Airlift Wing in support of Operations Joint Forge, Coronet Oak, and Associate Air Officer Commanding for U.S. Air Force Academy Cadet Squadron 22 "Raptors." Prior to his current position, the general was the Mobilization Assistant to the Director of Intelligence, Headquarters Air Combat Command, Joint Base Langley-Eustis, Virginia.
---
Related Sessions
The Component Commands
Wednesday, April 6, 2022
3:10 pm - 3:50 pm
Track: Symposium Program
---