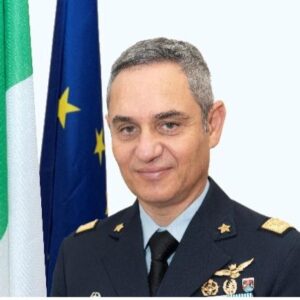 Brig. Gen. Luca Capasso
Chief of Space General Office- Italian Defence General Staff

Chief of Space Operations Command
Brigadier General Luca, "Lucky," CAPASSO was born in Naples, Italy, on 7 March 1969. He attended the course "LEONE 4" at the Air Force Academy from 1989 through 1993. In July 1994, he obtained his Military Pilot's License, flying T-38 aircraft at Columbus AFB (USA).
In 1994, he was assigned to the 9th Wing in Grazzanise where he covered the positions of Commander of the 84th Flight of the 10th Flight Squadron, and Chief of the Training Section.
From 2000 to 2004, he was assigned to Sheppard AFB (USA), initially as Instructor Pilot, and then as Chief of the Check Section.
Returning to Italy in 2004, he was assigned to the 61th Wing as Chief of the StanEval Section, where he became Commander of the 212th Squadron in 2006, starting the new Lead-in-Fighter Training Program for ITAF. He then served as Chief of the 212th OPS Section, Chief of the Training Section, Deputy Squadron Commander, and Squadron Commander. From 2008 to 2009, he was made 61st Wing OPS Commander.
In September 2009, assigned to the Air Force Staff in Rome, he was put in charge of the T-346 Program and Flight Training Policy within the Policy Division. In 2011, he was assigned as Deputy Chief of Staff Stability (ISAF), and, immediately thereafter, as Chief of the 5th Office of the, Policy & Transformation Division, which deals with intelligence and ISR policy.
In 2014, he was assigned to the 37th Fighter Wing in Trapani (Sicily) as Wing Commander.
Returning to the Air Force Staff as Chief of the 2nd Office of the Policy Division, he was made responsible for Logistics and Procurement for all the most important Air Force fixed- and rotary-wing programs, ending his assignment within the Policy Division as Deputy Head.
In November 2019, he became chief of the Space General Office inside the Italian Defence General Staff and in June 2020, he became Commander of the Space Operations Command. In addition, with Prime Minister's decree, in July 2021, he was appointed as "coordinator of experts group to guarantee technical-scientific support to the inter-ministerial committee in charge of policies related to space and aerospace research".
Brigadier General CAPASSO is a pilot with about 3000 flight hours with 7 different kinds of aircraft, including the EF-2000.
---
Related Sessions
International Military Collaboration
Tuesday, April 5, 2022
2:30 pm - 3:30 pm
Track: Symposium Program
---