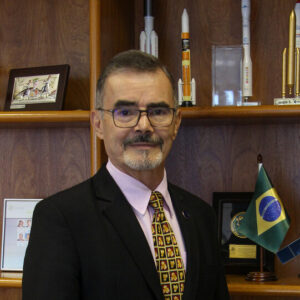 Carlos Moura
President
Brazilian Space Agency (AEB)
Born in São Paulo, SP
Graduated from the Aeronautics Institute of Technology (ITA), with a degree in Aeronautical Infrastructure Engineering (1980), he later earned a Master of Science (M.Sc.) degree from the same institution (1996). Experience in: airport projects and space launch centers; development, qualification and operation of computer systems for critical applications; spacecraft launch operations in Brazil and abroad; formulation and review of public policies on technological and organizational planning, including international cooperation; implementation and monitoring of quality assurance systems; development of regulatory standards for the aerospace sector; strategic planning for the aerospace industry; and space program management.
In 1981-85, he worked as an airport engineer in projects and works under the responsibility of the Coordinating Committee of the Airport System Project of the São Paulo Terminal Area (COPASP), a joint body established by the Ministry of Aeronautics and the Government of the State of São Paulo, with emphasis on the São Paulo – Guarulhos International Airport.
He has been operating in the space segment since 1985, with emphasis on: implementation of the Alcântara Launch Center (CLA); development of the Satellite Launch Vehicle (VLS); space launch and tracking operations (CLA); probe intercomparison operations with the World Meteorological Organization; development of the Master Plan for the Alcântara Space Center (Infraero); design and implementation of the Cyclone-4 Terrestrial Complex (ACS); design and planning of space systems under the Strategic Space Systems Program (PESE).
Together with the Brazilian Space Agency (AEB), he worked on several cooperation initiatives, including the following: prospective studies with international organizations for the use of CLA; development of space safety regulations; development and implementation of CLA ́s main/basic infrastructure; space launch certification and licensing programs; and, since the beginning of 2017, he has, along with representatives of other bodies, taken part in several Technical Groups of the Brazilian Space Program Development Committee (CDPEB).
Since 2005, he has been serving as Representative for South America of the International Association for the Advancement of Space Safety, an entity that brings together experts from the space sector, focusing on safety and the use of best practices for space exploration.
He worked in the private sector from January 1972 to February 1973; and from October 2008 to February 2016. He has built a career in the Brazilian Air Force (FAB), where he served between March 1973 and September 2008, having retired as an Engineer Colonel. He continued working in the field of Science, Technology, Innovation and Offset under the Air Force General Staff between April 2016 and February 2018. From March 2018 to December 2019, he served as Analyst for the Space Systems Coordination and Implementation Committee – CCISE, which is responsible for implementing the PESE.
He took office as president of the Brazilian Space Agency in January 2020.
---
Related Sessions
Heads of Agency: Nations to Watch
Wednesday, April 6, 2022
2:20 pm - 3:05 pm
Track: Symposium Program
---