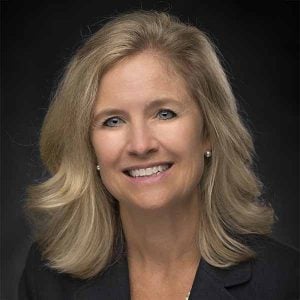 Dr. Michelle Parker
Vice President and Chief Engineer, Space and Launch Engineering
Boeing Defense, Space & Security
Michelle Parker is Vice President and Chief Engineer for Space and Launch Engineering within Defense, Space & Security (BDS). Space and Launch is responsible for ensuring the technical integrity and success of programs including the Space Launch System, CST-100 Starliner, and International Space Station as well as Satellite programs. Most recently, she served as Vice President and Capability Leader for BDS Engineering's System Engineering, Integration and Test (SEIT) Capability where she was responsible for driving engineering excellence across BDS Systems.
Previously, she led the Satellite Development Center (SDC) for Boeing's Network & Space Systems business. As an industry leader in the design, development, manufacturing, integration and testing of satellites for government, civil and commercial customers, Boeing's satellite manufacturing facility is the largest in the world and has produced more than 300 satellites to date.
Prior to her role as vice president of the SDC, Parker was the director of Flight and Vehicle Technology for Boeing Research and Technology (BR&T), Boeing's advanced central research and development unit. In this role, she was responsible for strategy and development in the technology areas of Aerodynamics and Flow Control, Vehicle Dynamics and Control, Propulsion, and Integrated Vehicle Technologies.  
Parker also worked as Enterprise Domain Leader for Platform Performance, one of Boeing's eight focused technology domains that comprise the company's Enterprise Technology Strategy. As Domain Leader, Parker was responsible for strategic planning of research and development across Boeing Commercial Airplanes, Boeing Defense, Space and Security, and Boeing Research & Technology, providing focus for technologies such as aerodynamics, propulsion, guidance, navigation and control, and computational science. 
Before working as the Domain Leader, Parker was deputy director for National Space Communications Programs (NSCP), a large portfolio of proprietary programs, where she was responsible for leadership, strategy and execution across the programs.  She was also the NSCP Systems Engineering Manager, where her systems engineering team was recognized for outstanding technical accomplishments and execution on many significant milestone events. 
Parker's career has also included positions as Systems Engineering Lead and Chief Engineer on commercial satellite programs. Parker started her career in the Thermophysics Department of Boeing Satellite Systems.
Parker earned a bachelor's degree in mechanical engineering from Lehigh University, as well as a master's degree and a doctorate in mechanical engineering and applied mechanics from the University of Pennsylvania. Parker's doctorate was earned as a Howard Hughes Doctoral Fellow while at Boeing. 
---
Related Sessions
New Generation Space Leaders: Leadership Exchange "Speed Mentoring"
Monday, August 23, 2021
2:00 pm - 4:00 pm
Track: New Generation Space Leaders
---