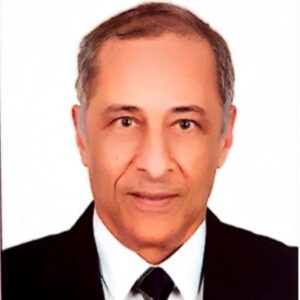 Dr. Mohamed El-Koosy
Executive Director
Egyptian Space Agency (EgSA)
Dr. Mohamed El-Koosy, CEO of the Egyptian Space Agency (EgSA) since 2019.
Dr. Mohamed El-Koosy was born in Egypt in 1949. In 1972, he graduated from the Military Technical College with a Bachelor of Military Science and obtained his Ph.D. in Electronic Engineering in France in 1982.
With more than 50 years of experience, Dr. El-Koosy has worked as a member of the teaching staff at the Military Technical College, at the Armament Authority of the Armed Forces in Research and Direction Development, and as deputy head of the Technical Research Division of the Armed Forces.
On July 2, 1998, Dr. El-Koosy retired at the rank of Major General.
Since then, Dr. El-Koosy worked as a visiting professor at the Military Technical College and at the National Authority for Remote Sensing and Space Sciences.
In Ukraine, Dr. El-Koosy worked for 5 years to implement the satellite project EgyptSAT-1 as head of power group and as supervisor of functional tests before launch, and then as quality project manager for a software development system.
Finally, Dr. El-Koosy worked as a director of the Satellite Assembly and Test Center in Space City and as a supervisor of the implementation of the project to build and launch the satellite 1-NextSat, which is planned to be launched at the end of 2021. Additionally, he was chairman of the Space City Planning Committee and the main coordinator of a memorandum of understanding­ that was signed between the Chinese National Administration and the National Sensing Authority to establish communication in the Space City Planning Project.
---
Related Sessions
Heads of Agency: Nations to Watch
Wednesday, April 6, 2022
2:20 pm - 3:05 pm
Track: Symposium Program
---