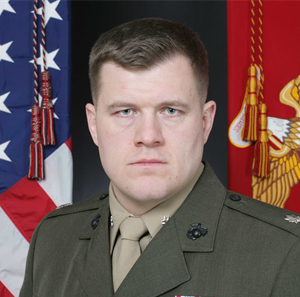 LtCol Blake Veath, USMC
Space System Operations Officer
U.S. Space Command
Lieutenant Colonel Veath was commissioned as a Second Lieutenant on 19 August 2001 and then reported to The Basic School as a member of Echo Company.  He graduated TBS in February 2002 and attended Marine Basic Qualification Course for Aircraft Logistics at the Naval Supply School, Athens, Georgia.  Upon completion of school, Second Lieutenant Veath reported for duty to Marine Aviation Logistics Squadron 31 (MALS-31) aboard MCAS Beaufort, SC where he served as the Consumable Management Division OIC from June 2002 to August 2003.  In August of 2003, First Lieutenant Veath attached his MALS-31 detachment to VMFA-312 and deployed onto the USS Enterprise from August 2003 through March of 2004 in support of Operation ENDURING FREEDOM.  Upon his return, he served as the Accounting and Fiscal Officer for Marine Aircraft Group 31.
First Lieutenant Veath reported to the Naval Postgraduate School in June 2005.  In September of 2007, Captain Veath graduated, earning a Master's of Science degree in Space Systems Operations and awarded the 8866 Military Occupational Specialty code "Space Systems Operations Officer".  His thesis was titled "Exploitation of Polarimetric Imagery".
Captain Veath was then transferred to the Joint Space Operations Center (JSpOC) at Vandenberg Air Force Base where he served as the Deputy Chief of the Force Enhancement Team on the Operations Center floor.  His team provided global reach-back support for all DoD satellite capabilities.  Captain Veath was also the first active duty Marine to serve at the Joint Functional Component Command for Space and its 24-hour space operations center. 
In 2010, Captain Veath transferred to MALS-12 aboard MCAS Iwakuni, Japan to serve as department head, Aviation Supply Department.  While serving as the Aviation Supply Officer, Captain Veath was promoted to the rank of Major.  
In 2012, he was selected to fill the S-4 Department Head position at the Marine Aviation Weapons and Tactics Squadron 1 (MAWTS-1) aboard MCAS Yuma, Arizona.  In addition to being responsible for all weapons, facilities, financials, contracting, supply, MAWTS-1 POM submission, and Aviation Supply for 75+ aircraft per semi-annual course, Major Veath's team planned and executed the embarkation, retrograde, and life support for all 4000 participants and students per Weapons and Tactics Instructor course.
After a successful tour, Major Veath was selected to serve a second 8866 MOS Space Systems Operations tour at the National Reconnaissance Office in Chantilly, Virginia in the summer of 2015.  As the sole active duty Marine at the NRO, Lieutenant Colonel Veath served as the USMC Service Team Lead, responsible for fostering and managing the relationship between the Marine Corps and the NRO.  Major Veath was deployed as the NRO National Agency Representative (Technical Advisor and Liaison Officer) in support of Operation Inherent Resolve in April 2017.  Upon return in October 2017, Major Veath was selected to lead the Intelligence Discovery Cell (IDC) – a small team of intelligence professionals tasked to assist highly sensitive IC customers and special mission units with hard targets/intelligence problems which often require Full Spectrum, cross-agency intelligence solutions that the IDC creates.  He was promoted to Lieutenant Colonel in May 2018. 
In 2020, Lieutenant Colonel Veath was assigned to the Marine Forces Space Command service component to US Space Command, located in Colorado Springs, with the mission to stand up the command.   
Lieutenant Colonel Veath is also a certified Six Sigma Green Belt Practitioner, Certified Logistics Chain Improvement Practitioner, Joint Aviation Supply and Maintenance Material Management course graduate, and Maritime Prepositioning Force Staff course graduate. 
Lieutenant Colonel Veath holds a Bachelor of Science in Engineering Degree in Computer Engineering from Tulane University class of 2001 and a Master of Science Degree in Space Systems Operations from the Naval Postgraduate School class of 2007.
His personal awards include the National Reconnaissance Office Superior Service Medal, Defense Meritorious Service Medal (Second Award), Meritorious Service Medal, Joint Service Commendation Medal, Navy and Marine Corps Commendation Medal, and Navy and Marine Corps Achievement Medal (Second Award).         
---
Related Sessions
Navy and Space
Thursday, August 26, 2021
8:30 am - 9:25 am
Track: Symposium Program
---