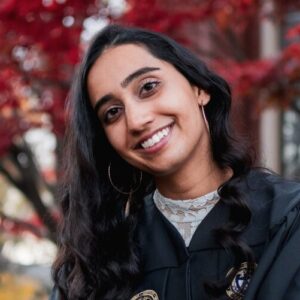 Saumya Sharma

Brooke Owens Fellow
Ever since she visited the Hayden Planetarium at the age of seven, Saumya Sharma aspired to be an astronaut and push the boundaries of exploring the wonders of space. As a recent graduate from the Georgia Institute of Technology, majoring in aerospace engineering, Saumya is excited to start her next chapter within the commercial space industry. The Brooke Owens Fellowship has been a dream come true and reminds Saumya of the possibilities in this field.
Throughout the course of her undergrad, Saumya completed four aerospace internships spanning various fields. As a freshman, she worked at MIT Lincoln Laboratory in the Mechanical Engineering group working on structural analysis on the exterior of an ESPA class satellite. As a Brooke Owens Fellow, Saumya worked for Astranis designing critical ground support equipment required to assemble their first small satellite which will provide internet connectivity for Alaska. Using that industry knowledge, Saumya worked from Jan 2020 to July 2020 at SpaceX down at the Cape Canaveral site. During her time there, she ensured successful launches for IFA, CRS-20, and Demo-2 as a team member of the Dragon Final Integration team. hopes to transition to the GNC field, this past summer, Saumya worked as an Autonomous Software Architecture intern at Blue Origin working on software validation & verification for GNC applications for New Glenn. Finally, this upcoming summer, Saumya is going to work as a Launch Operations & Integration intern at Virgin Orbit.
Currently, Saumya is working at the Recreational Equipment Inc (REI Co-op) to take a break prior to attending graduate school for her master's degree in aerospace engineering concentrating on guidance and navigation. While working part-time, Saumya has embarked upon camping and surfing adventures from places such as Olympic National Park to Trestles. In her spare time, Saumya enjoys surfing, skateboarding, playing competitive waterpolo, and weightlifting.
---
Related Sessions
Master Moderator: Saumya Sharma
Wednesday, April 6, 2022
8:00 am - 5:00 pm
Track: Symposium Program
---